A mother of three boys, named Finley, Sanders, and Charlie, had spent months planning for what was supposed to be an exhilarating spring break trip to Las Vegas, New York City, etc.Like for millions of people in the world, all the plans were left in the dust due to the COVID-19 situation.
While many people were crushed seeing their travel plans being canceled left and right, Michele Bell saw an artistic opportunity to make the best out of a bad situation. She came up with a brilliant idea to illustrate their entire now-canceled trip, and the result was simply great!
Where Did It All Start?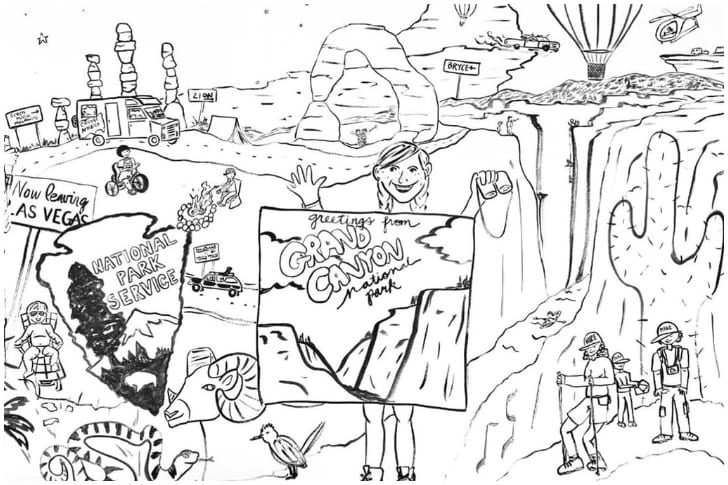 Image Source: Instagram user michelebellstudio: Mural by Michele Bell and kids
The artistic mom states that she always had a penchant for illustrations. As she and her kids were practicing social distancing at home, they started drawing a lot. Incredibly, Michele made a 34-page coloring book available for free download, providing a source of humor and heartfelt sentiments in these tough times. She loves sketching so much that it is the first thing that she does while starting her day and also the last.
How Did It All Come Together?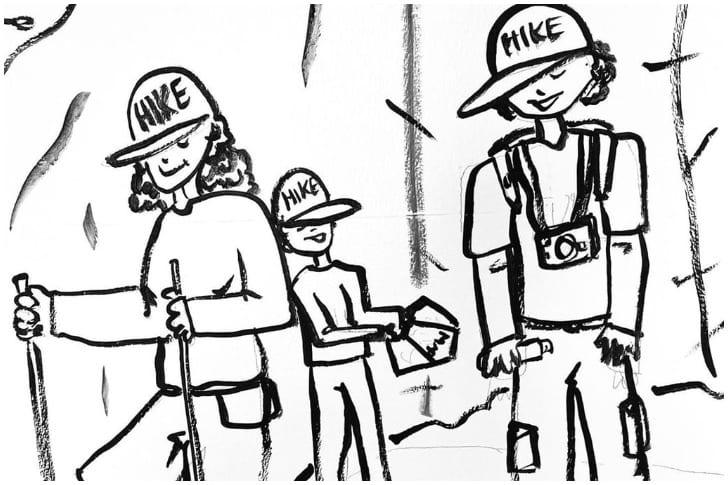 Image Source: Instagram user michelebellstudio: A family vacation hiking mural 
An idea struck! Her coloring books bring joy to people, then why not create her own artworks? What if she 'drew' their entire spring break? Immediately, everyone got involved, and they set out on an exciting venture.
After some rearrangements, they started with New York City. The wall was painted with the most famous tourist spots like Stature of Liberty, the Empire State Building, the Guggenheim Museum, and a Banksy rat. The kids drew what they were most excited to see – Times Square and the Radio City Rockettes.
This creative crew started adding their little touches to the mural in-progress. Apart from the principal attractions, they incorporated the city's heartbeat, such as hot dog vendors, Eloise at the Plaza Hotel, Iris Apfel, the distinctive yellow taxis, and other staples of the street.
What was Next in Store?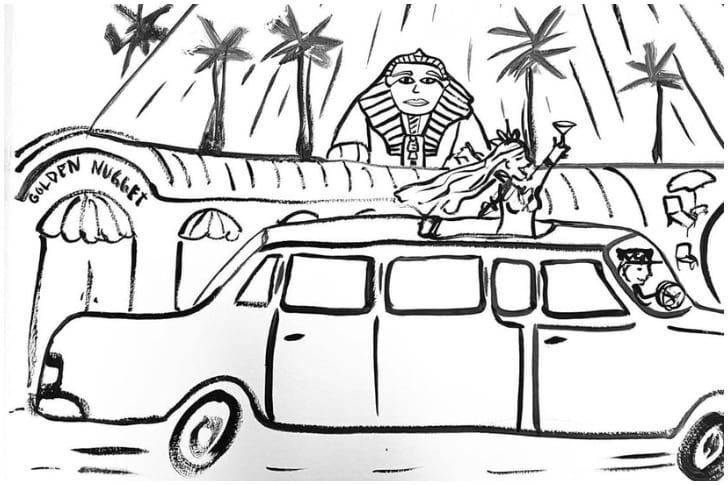 Source: Instagram user michelebellstudio: Michele Bell and kids family mural 
Soon what started as a doodle snowballed into designing the whole wall. After finishing up stellar and picturesque views of NYC, they turned to the sin city, Las Vegas, and the Grand Canyon. The luxurious hotel of Bellagio, limousines, high glamour casinos, copper-colored Colorado River, and much more can distinctly be seen on Bell's Instagram feed. They also drew the places that are on their bucket lists such as Japan and Paris.
Now, she is encouraging other people to lean into their creative side more and get painting, turning walls into canvases. The idea is to stop taking life too seriously and exploring different parts of the world, even if you can't visit them physically!